Some of the participants who came were
sassystrawberry
,
raydance
,
ivoryfox
,
gothiquelolita
,
crucifixation_
,
i_am_kagetsuki
,
rockahippo
,
lightlybattered
,
lavenderlilz
~~
(
At TCC
Collapse
)
Had a dollmeet at Dhoby Gaut TCC yesterday~ My first time using the Canon EOS 450D outdoors as well and some of the focus was off when I was editing, I realised >_<" But I do love the colours though!
Current Mood:

tired
sd_sg
's recent photo theme challenge. Which was 'eyes' incidentally. And since Lucinda has whopping 20mm eyesockets...
I have a thing for blue eyes. All my dolls have blue eyes in one shade or another~
Posted this photo for
Current Mood:

tired
Current Mood:

cold
I don't know if it's possible to compare Dollism and Dolpa together but Dolpa certainly is more overwhelming at all levels! The number of dealers at Dolpa far outweigh those at Dollism that's for sure. But Dollism has a more homey feel to it that's comfortable for the doll-shopper while Dolpa is very Volks-centric *duh!* and can be somewhat stressful, lol! My mind started to faze out at the 60th booth or so at Dolpa, heh. But I love the selection of wares at Dolpa. So MANY gorgeous outfits to die for. Just rows and rows and rows of superlatively wonderful things for all your doll's every needs!!
Also, thanks to
bittenbefore
, the Singapore contingent (haha!) managed to meet with some of the Volks upper management staff at Dolpa 19. They were extremely kind and pleasant and I really enjoyed meeting them =D It's nice when you get to meet the people behind the hobbies you love and find out a little bit about what goes on behind-the-scenes~~
More on the Dolpa experience and meeting the Volks staff at my blog.
(
Dolpa 19 : My first Dolpa too! *image-intensive*
Collapse
)
So here's my Dolpa 19 photos. It was quite an experience! Having attended HK's Dollism Plus last year, I was keen to try Dolpa, the scion of BJD events.
Current Mood:

busy
erushi
organised last Saturday and held at the Novus Cafe at the National Museum!
For those who read my regular LJ blog would know that I was having dizzy spells on and off on the day of the meet. So I wasn't really up to going around the tables and taking photos of the dollies. And there were so many lovely ones around too! So what I did was to attempt to snipe dolls who were placed further away from me using my telezoom lens instead, lol.
Jack Darcy's rep as a ladies' man is forever ruined by
raydance
's Kiki ;__;
(
The Randomly Doll-Sniping Afternoon
Collapse
)
Finally putting up the dollmeet photos that
Current Mood:

giddy
Current Mood:

full
*sounds like 80 year old schoolmarm, yes she does*
(
Kiss me~~~
Collapse
)
I guess this is just in time for Valentine's Day, hah! =p I don't really consider myself a very romantic person when it comes to matters of amour but I like a good love story now and then. But it can't be mushy! No mushiness allowed!! Can be sweet but it has to be strong, unmushy romance like an oak tree that endures a hurricane!!
Current Mood:

okay
She fits the Domuya flexi-body which pleases me a lot since I wasn't sure it would be a match! I haven't decided if I'm going to get Alessa a body of her own due to space constraints and that I'm more likely to use Alessa for certain photos only. My mum would pitch a fit if I were to have another doll, lol. But I don't consider floating heads as full dolls so although Alessa has a name, she probably won't have a background to fit into the existing Rutherford-Python family *hic*
In any case, here's Alessa! I do hope you'll like her? Dreaming heads are quite under-rated I think, heh.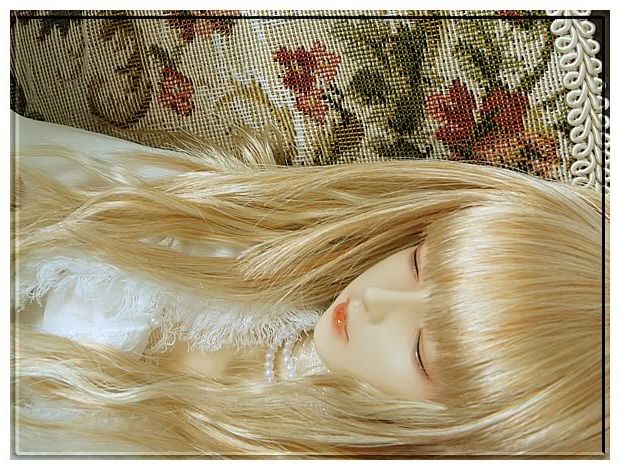 (
+2
Collapse
)
I can't remember when I started thinking I wanted a dreaming doll but when I saw Reminisce Soah, I knew she would be perfect for me. There's something so...peaceful about dreaming dolls I suppose! And Reminisce Soah had such a sweet, gentle face that I would love to photograph~~~ When someone was selling a Reminisce Soah head on DoA, I decided let's do it and bought the head the very same day =@ =@
Current Mood:

blah
Yes. Tiny.
From Dollsoom.
Bah.
(
Rosetta T_T
Collapse
)
So.
Current Mood:

indescribable